Photography Contest

Der Greif - Guest Room: Annekathrin Kohout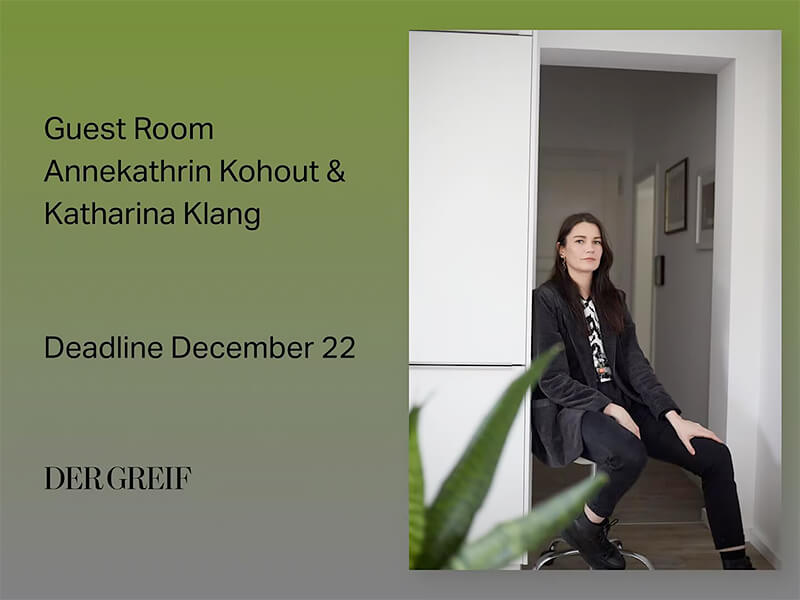 Deadline |
CLOSED
Theme |
NO
Territory |
Worldwide
Eligibility |
Open to all
Entry Fees |
FREE
Prizes |
Cash Prize

Guest Room aims to spark collaboration. Annekathrin Kohout, writer and cultural scientist, has decided to team up with writer, curator of contemporary art and founding director of the Philara Collection, Katharina Klang. Together, they have developed the following framework for your submissions: "No."

​No.
Noooooooooooo.
No longer.
No more.
What does (an expressed) no look like?

Why submit to Guest Room?
Be discovered by two experts in contemporary art and photography
Get published in an online showcase on Der Greif alongside emerging artists from all over the world
Submit for free or pay a voluntary donation of 6€

Please note: Images which have been selected for a previous Der Greif opportunity are not eligible for re-submission. We want to support the broadest range of photographers possible and therefore encourage you to submit work that has not yet been selected by our past Guest Curators. Any images which do not comply with these terms will be removed from the selection process.

Voluntary donation
After over a decade of serving the international photography community Der Greif is now finally a registered non-profit. We believe this organizational structure best reflects our artistic and cultural mission. As always, your artistic contribution makes our work on Der Greif possible.

Since starting Guest Room in January 2015, we've been working hard to invite a broad range of practitioners, from gallerists to editors and curators. We are convinced that this format is an interesting and low-barrier approach to help artists get their work in front of people who might be interested in working with them. For this reason, we are asking you to consider making a financial contribution as well. That's why we're suggesting a voluntary donation of 6 € as a submission fee. 100% of the funds we collect from your donations will go towards helping us continue providing interesting opportunities for the photography community through Guest Room, and thus expand Der Greif.

We believe in inclusivity. We don't want this suggested donation to stand in the way of your submission. If you are unable to contribute financially, please send an email to voucher@dergreif.org to receive a voucher code which will allow you to enter for free.

About Annekathrin Kohout
Annekathrin Kohout (*1989) is a freelance writer and cultural scientist. From 2016 to 2022 she was a research assistant at the Department of German Studies at the University of Siegen, where she completed her PhD on the nerd as a social figure in May 2021. She is co-editor of the book series "Digitale Bildkulturen" at the publishing house Klaus Wagenbach as well as the journal "POP. Culture and Criticism." Since 2022 she has been a member of the editorial board of the international "Global Pop Journal". Her most recent book "Nerds. A Pop Culture History" was published by C.H.Beck in January 2022.

About Katharina Klang
Katharina Klang (*1985) is a writer and freelance curator of contemporary art and founding director of the Philara Collection, which she managed from 2016 – 2022. She studied art history and philosophy in Düsseldorf and Prague. Her interests focus on memory culture, archives, politics of public space, human-animal relations, and the ethics of collecting. Her curatorial practice is grounded in a queerfeminist, non-discriminatory, collective, caring, and anti-classist stance.

About Der Greif Guest Room
Guest Room is a monthly online exhibition with open submissions curated in real-time by personalities from the international photography scene. Der Greif is an award-winning organization for contemporary photography. It is print-publication, online-publication, curatorial team and joint project all at once. Der Greif connects the digital and the analogue, exploring and expanding the borders and limits of image-distribution and -reception in the digital era.