Photography Contest

International Landscape Photographer of the Year 2022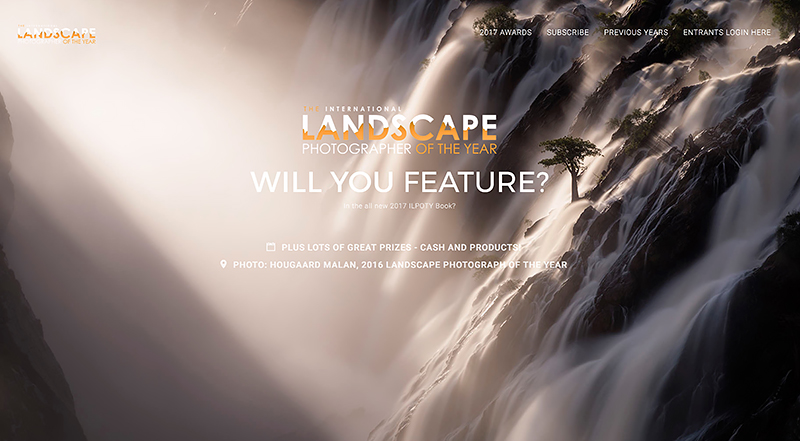 Deadline |
CLOSED
Theme |
Landscape
Territory |
Worldwide
Eligibility |
Open to all
Entry Fees |
$25/image
Prizes |
Cash Prize

We trust you have been able to get out and about into the landscape over the past 12 months. As the world reopens, photographers are travelling again and we hope they're returning with some amazing landscape photographs!

And hopefully you're ready to share your best images with the 2022 International Landscape Photographer of the Year awards.

There's nothing more satisfying than seeing your photos published alongside the world's best. And the International Landscape Photographer of the Year Awards book is a real book - printed on paper and bound between hard covers, but of course, you can also see the wonderful flip-book presentations here on the website. Being published is a mark of success!

This is our ninth year of the International Landscape Photographer of the Year Awards and the main aim of our Award is to be one of the Top 101 landscape photographs of the year. This gives you a place in our exclusive book which is published online and can be purchased as a 'real' hard-cover paper publication as well (it's proudly printed by Momento Pro in Australia and we will have options for readers outside of Australia this year as well).

There is a total of US$10,000 in cash prizes, printed copies of the book from Momento Pro for the major prize winners, NiSi filter outfits and Fotopro tripods (see the rules for full details). And there are five special subject prizes winning a print from Created For Life!

So, what's the process? Your job is to impress our five judges, including last year's winner Aytek Cetin. And entry is easy - just size your file to 4000-5000 pixels on the longest side, save it as a JPEG and upload it. The entry fee remains unchanged at US$25 per image, and if you enter by 14 October 2022, every fifth entry is free. Final entries are accepted until 21 October 2022.

When the competition closes, our judges will use calibrated computer monitors to judge each photograph, giving it a score out of 100. Judges can open each and every entry and view it pixel for pixel on their monitor if required - and this is invariably done before they give their higher scores. Technique and craft are just as important as creativity for the top awards.

Once the first round of judging is completed, the top 115 odd photos are selected and checked to ensure they comply with the rules (not taken before 1 January 2019, for example) and that there are not two or more photographs by the same photographer that are very similar (we are looking for variety). There is also a limit on the number of photographs a single entrant can have in the Top 101 - no more than four, just to share the experience around. In the past, we've found that selecting the top 115 to 120 allows us to end up with the top 101, taking into account these adjustments. We then move into the next round of judging, as outlined in our rules. The judges are engaged a second time to determine the Photographer of the Year (1st, 2nd, 3rd), the Photograph of the Year (1st, 2nd, 3rd) and five special subject awards. This can take two or even three rounds of scoring and comment before the judges come up with their final result.